Understanding Senior Care Client Needs
Posted:
February 18, 2022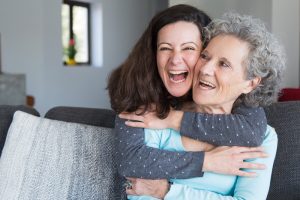 Senior care franchises like Always Best Care play a pertinent role in the lives of seniors and their loved ones. As any successful home care business owner will tell you, the more you can anticipate and understand the needs of the seniors you're serving, the better care you and your caregivers can provide.
At Always Best Care, we're committed to helping our franchisees understand the needs of their seniors. Becoming a more compassionate business owner, improving your senior care services, and helping you build a profitable senior care franchise all start with that fundamental understanding.
To be a successful Always Best Care franchisee, you've got to understand the clients that you will be serving and how your team provides seniors with the care they need.
Why Seniors Need Care in Your Community
When you think about it, it's no surprise that seniors prefer to age gracefully at home. Aging at home is more comfortable, familiar, and can help prevent cognitive decline. Despite the fact that many seniors prefer to enjoy their golden years from home, some older adults can't do so without in-home care services. Some seniors only need help around the house for a few hours a week, while others need ongoing assistance with chores and appointment reminders. The point is that they need in-home care – and that assistance is the primary reason why adult children and loved ones seek out senior care services.
Some seniors are more dependent on home care than others, but even the most independent older adults can benefit from companionship care, which is another service offered by Always Best Care. Perhaps these seniors don't have family or loved ones close by, or they simply can't get out as often to visit with the family they have nearby. Whatever the reason, companion care services can make a world of difference and is another reason why seniors need in-home care in your community.
What Loved Ones Need to Know
As an Always Best Care business owner, your primary focus will be on improving the lives of seniors in your community. However, your home care franchise will also be very helpful for the loved ones and families of seniors in your community. Often, understanding the needs of the family is equally as important as those of the senior since they will be your primary point of contact as you manage your Always Best Care business.
Family and loved ones need to know that their seniors will be cared for with compassion and dignity. As an in-home care business owner, your services will provide peace of mind not only for the senior client but their friends and family, ensuring everyone rests easy knowing you have their best interests at heart.
How Always Best Care Franchisees Provide Support
Once you understand the needs of each of your clients through your initial care consultation, you can craft a comprehensive care plan for them. Your carefully selected in-home caregivers will then provide one-on-one care to your senior clients, helping them with any number of tasks, from meal prep to medication reminders. Your caregivers will be by your client's side when they need them the most and can report back to you with status updates on how the senior is doing.
Owning an in-home care franchise through Always Best Care can be incredibly gratifying, especially when you learn just how crucial your care services are to your clients and their families. Seniors in your area need personalized care to age at home, live more fulfilling lives, and keep friends and family from worrying about their loved ones. If you've always dreamed of owning a business that makes a real impact on your clients and your community, Always Best Care could be the opportunity you're looking for.
Discover the Always Best Care Difference Today
Whether you're an innovative entrepreneur who wants to make a difference or a professional in looking to start a new career, franchising with Always Best Care is a tremendous opportunity. To learn more about our company and how we set up new franchisees for success, download our free E-Book today. A future in one of 2022's hottest markets could be closer than you imagined!