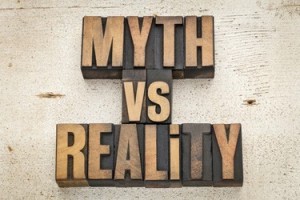 If you find yourself thinking about new professional opportunities, you will probably perform some research on franchising.  Becoming a franchise owner is attractive because it gives you the best of two professional worlds: the ability to operate your own business independently, but with the support of a successful organization behind you. If you are intrigued by franchising, you may run into some conflicting reports about what it is like to operate your own franchise.  However, it can be difficult decoding myth from reality when it comes to franchise facts.
To help you make the best possible decision for your future, here is a list of some of the more common myths about running your own franchise. These myths only serve to muddy the waters in regards to franchising, and they discourage potential franchise owners from pursuing fulfilling opportunities.
Franchise Myth #1 – "Most Franchises Fail Within the First Year of Operation"
The first year of operating any business is difficult, and franchises are no exception. However, the fact is that most businesses do, in fact, survive their first year of operation, and less than 40% of businesses fail within the first two years of existence. As long as you go into franchising with a solid plan, sufficient capital and strong financing, you'll have a solid base with which to begin.
Franchise Myth #2 – "There's No Real Freedom in Franchising"
This myth has persisted for quite a while, even though it is just not true. One of the main reasons people go into business for themselves is to gain more professional freedom. They want to escape the corporate structure, and they think that the presence of corporate backing in a franchise situation is just another way to become a "cog in the machine." The truth is that you are the real boss in your franchise, regardless of the franchisor you've partnered with. You are responsible for decisions impacting advertising, marketing, hiring and managing. Of course, with a franchise, you always have help available, but when it's your franchise unit, the buck stops with you.
Franchise Myth #3 – "There's No Creativity in Franchising"
Similar to Myth #2, this one assumes that some franchisor representative or policy will stifle any creative decisions made by franchisees. Thankfully, this one is also untrue! Certainly, the franchisor will monitor and guide certain aspects of your business, but those guidelines only exist because they have been proven to boost performance, whether they pertain to uniforms, signs or other facets of the operation. Moreover, many of the best policies that franchisors have implemented have come from the creative suggestions of franchise owners.
Franchise Myth #4 – "The Right Franchise Opportunity Doesn't Exist"
So many people wait for the perfect opportunity, then never actually take any chances. A casual glance at franchise opportunities may reveal that the bulk of professional options exist within just a few industries, but those who scratch a little more deeply under the surface find that franchising opportunities are available for just about every interest, budget and skill level.
Franchise Myth #5 – "I Just Can't Afford a Franchise"
It takes money to buy into a franchise, but it takes an investment of some kind to get into any kind of business, regardless of your level of involvement. Before you dismiss franchise ownership because you've heard some figures related to popular mega brands, investigate some of the lesser known industries and you'll find that some franchises are much more affordable to start than others. The senior home care industry, for example, is rewarding, and the cost of entry is much less than you might expect.
Is Franchising the Right Opportunity for You?
Franchising is not ideal for everyone who wants to go into business, but it shouldn't be discounted because of some persistent myths. For many people, franchise ownership provides the perfect balance between complete autonomy and corporate backing. The lesson here is that there are common myths about franchising that might be keeping you and others from experiencing the perfect professional balance. Don't let them hold you back any longer!
Are you ready to learn more about franchise opportunities with Always Best Care?
For information on our franchise opportunities, call toll-free 1-855-430-CARE (2273), send an email to [email protected], visit www.www.alwaysbestcare.com/franchising or download our FREE franchising eBook today and refer to our most recent Franchise Disclosure Document (FDD) for more details.